PRIVATE BOAT TOURS-ARCHIPELAGO TOURS-BOAT SIGHTSEEING IN STOCKHOLM
STOCKHOLM BOAT TOURS ARCHIPELAGO TOURS BOAT CHARTER AND SIGHTSEEING FOR SMALLER GROUPS UP TO 12 PEOPLE
WE ARE HAPPY TO OFFER OUR SERVICES TO INDIVIDUALS, COMPANIES AND TRAVEL AGENCIES
WHAT WE LOVE AND PROVIDE FOR OUR CUSTOMERS since 2010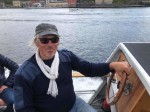 We love nature, being at sea and are excited to share with you what the Stockholm Sweden area has to offer.
Our mission is to provide you with unforgettable, happy and joyful experiences in the unique Stockholm archipelago.
Stockholm is sometimes called "The Venice of Scandinavia" due to the fact that the city is located on several islands, channels, and spans both sweet and salt water. The western part of the capital is located by Lake Mälaren and the eastern part by the Baltic Sea. There is an abundance of possible routes depending on what you'd like to experience and see.
The Royal Drottningholm Castle and Birka the old Viking city are very popular destinations in Lake Mälaren.
Our experienced captains and boats are well suited to take you anywhere you want to go.
We provide predefined scenic routes, as well as improvised tours based on your requirements, our recommendations (including seal safari & bird watching) and weather conditions.

Our boats have a capacity of 12 people. However we receive groups up to 24 people and in that case, we use 2 boats that go together. Our boat trips offer exclusivity for your group and we work with a personal and flexible approach.

There is no limit to what you can experience with us. Welcome
CENTRAl Portlocation in StocholM

M/s Freja (former Police boat) is equipped with free WIFI and stereo both inside and outside with the ability to connect own music. There are excellent opportunities to stay out in nice weather and a heated cabin in cooler weather. Toilet available. She has a top speed of 25 knots and is ideal for exploring both the archipelago and the beautiful city of Stockholm.
Msarchipelagorunner Max 6 pers.
M/s Archipelagorunner - charter boat in Stockholm, for small groups up to 6 pers.
On the rear deck, 6 passengers sit comfortably, and there is a bathing platform.
A large sunroof, toilet, kitchen, refrigerator, hot and cold water, as well as heating, FM radio with CD player and a possibility to connect audio source.

Top speed 25 knots.
FOOD DRINK & SNACK ON BOARD
OUR POPULAR BOAT TRIPS AROUND STOCKHOLM AND IN THE ARCHIPELAGO ARE BOOKABLE FOR YOUR GROUP FOR UP TO 12 PEOPLE
>>PRIVATE BOAT TRIP TO CITY OF VAXHOLM<<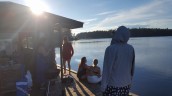 This is an amazing experience we recommend.
Duration
8 hours and 4 hours on our
sauna raft
Season:
15 Mar - 15 Dec 2019
Price:
15000 SEK + 6% vat for up to 12 people.
(24 people possible upon request)